If you are looking for a school for gifted children,

If you are looking for an anglophone qualified psychologist to do testing for giftedness,

If your child is gifted and you are looking for alternative schooling solutions,

If you are a teacher looking for ideas and suggestions on enrichment programs,

If you are a headmaster of a school interested in Anhugar's solutions.

Contact information
School address : Chemin des Charbouilles 11
, CH 1278 La Rippe.
Mailing address : Chemin du Molard 5, CH 1278 La Rippe.
Email :
info@anhugar.com
Phone: +41 (0) 78 953 84 50
Join us on social networks!


Access

How to get to Anhugar with public transport ?
Exit Nyon station : bus 810 (TPN) to La Rippe. Bus stop : La Rippe.


How to get to Anhugar with a car (GPS) ? Colonie de Carouge - Route du Jura 39, CH 1278 La Rippe (VD).
Exit Highway A1 Coppet/Divonne : follow Divonne-les-Bains

(but do not go to Divonne).
Turn right at the first light into Bogis-Bossey (after crossing the bridge over the highway), drive through the village then through the fields towards Crassier.
In Crassier, in front of the petrol station, turn right, then left towards La Rippe (400m).

At the entrance of La Rippe, turn left just after the bus stop in the path of Charbouilles, continue 100 m walk (the road turns right at right angles) then take a very small road on the left (gardens on the left, right).

The House is at the end of this path, it is pink!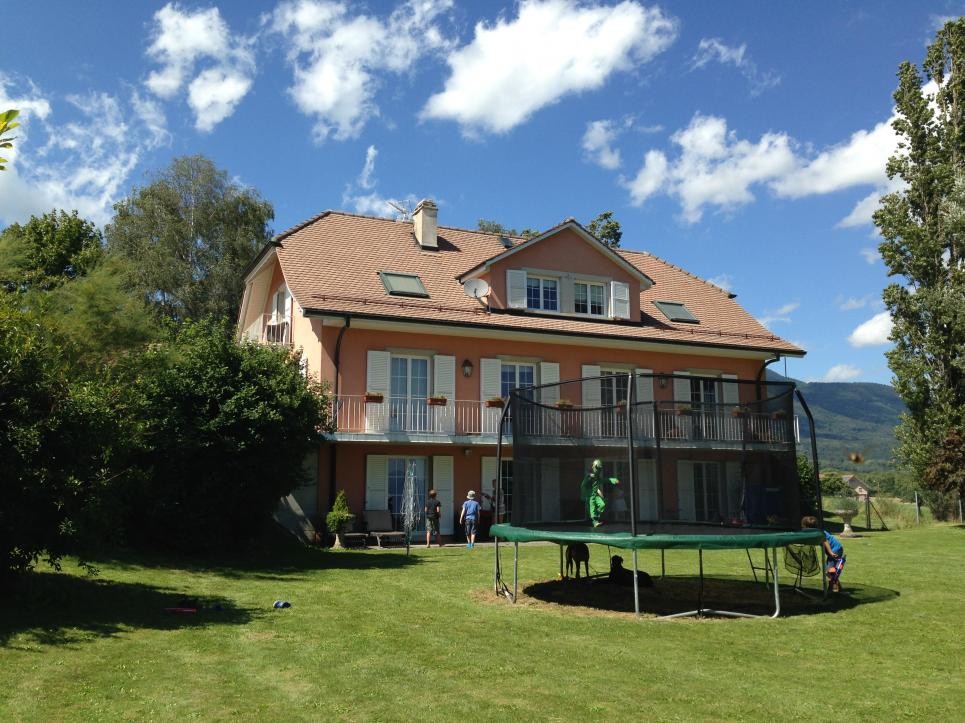 Important
To avoid disturbing neighbours and generate too much traffic in this small way (impasse) in which it is not possible to make u-turn and which is not plowed in winter, we ask you to urge:

-take the public bus if possible
-If you come by car, use the public parking next to the bus stop. There are 100 m to walk to reach the school.

-do not make ROAR motorcycles or scooters! You can come to school with, there is a shelter where you can shelter.